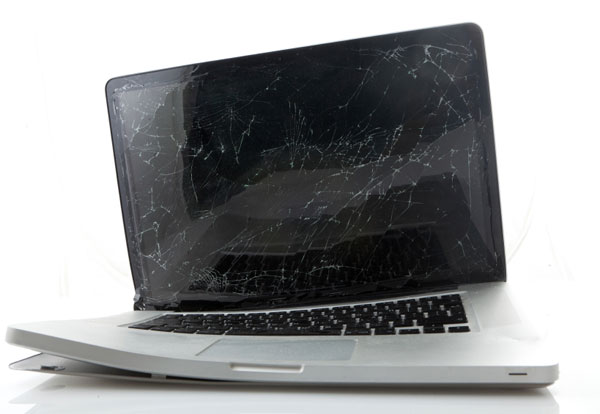 I have come to appreciate the Apple Macbook Pro as one of the finest notebook computers I have ever used. I currently have a 2012 model that I run both OSX Mountain Lion along with Windows 7 Pro. From the fit and finish to the solid aluminum unibody construction, great backlit keyboard and excellent track pad the machine is top notch running Mac or Windows. That being said as with any machine they require maintenance and care and occasional repair. At our repair center Computer Doctor of Hampden we deal with both Mac and PC issues everyday. From liquid spills to broken screens, software glitches and hard drive repairs we see it all. First and foremost your Macbook Pro is hydrophobic! It does not like water, beer, wine, soda,coffee, tea, milk, dog urine or pickle juice and yes I have worked on all those scenarios! The adage an ounce of prevention is worth a pound of cure rings true even more with the base price for a Macbook pro @ the $1200 mark. Life can be hectic, you can bring your portable Mac so many places, think about the risks you run, from loss of the system, data corruption and at least a loss of productivity and repair costs.
What is your back up plan? OSX has a very simple back up plan that can aid in both data and system recovery for the price of an external usb drive you can have peace of mind and the ability to find deleted files as well as recovering from a crashed hard drive . Please follow the instruction on Apples website to set up your back up plan sooner than later, consider it insurance for your digital life. Need help getting started? We stock external hard drives and can configure your back up plan as well as optimize your Mac for top performance and check for potential problems.
Given routine maintenance, reasonable care and proper usage your Macbook Pro can give you years of faithful service. Feel free to contact us with questions or submit a service request now.
http://hampdencomputer.com/wp-content/uploads/2013/09/macfix.jpg
414
600
kbellerose@tcreal.com
http://hampdencomputer.com/wp-content/uploads/2013/11/fulllogo1-300x104.png
kbellerose@tcreal.com
2013-05-21 12:21:04
2013-10-16 07:15:54
Macbook Pro Repair Bangor Maine