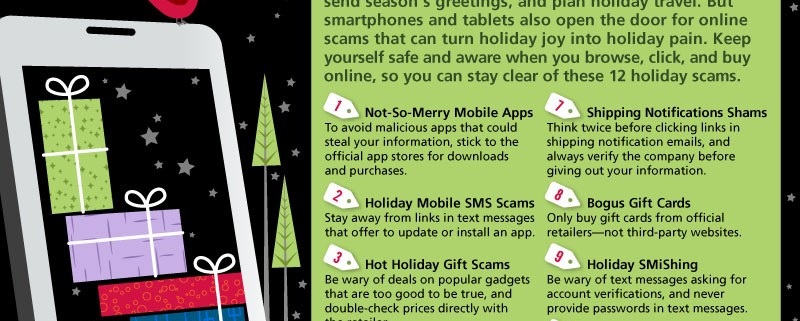 The holiday season is a time of good will, but it also attracts a crowd decidedly lacking in that spirit.
"Holidays, like disasters, are a common time for scams to increase," said Ed Mierzwinski, director of the consumer program at the U.S. Public Interest Research Group.
With the convenience of online shopping, consumers need to consider the possibility of identity theft. Other holiday rip-offs might not seem as obvious — disguising themselves through advertisements, fake charities or gift cards — but they are a threat nonetheless.
According to an October National Retail Federation survey, one-quarter of consumers plan on completing 26% to 50% of their holiday shopping online this year. Mierzwinski recommends the use of credit cards — not debit cards — when shopping online.
If someone is a victim of identity theft using a credit card, they still will have to undergo an investigation to validate the fraud, but they won't lose the money in their account.
"You have more rights by law with a credit card than a debit card," Mierzwinski said.
Other important tips:
Be careful with gift cards: Consumers need to act cautiously because scammers can copy or use portable scanners to get the code of a gift card and place it back on the rack. When consumers purchase the cards and activate them, the thieves can discover the values and take advantage online or in stores.
Make sure your shopping sites are legit: National Consumers League executive director Sally Greenberg said consumers should check the legitimacy of online shopping websites, especially when buying from unknown stores, and read the return policies.
Be wary of cut-rate pricing: Online advertisements for merchandise priced well below the product's typical cost are a trick used by scammers looking to get personal identification from consumers or to install malware — software that performs unwanted tasks and gathers private information — on their computers.
As a precaution, said John Breyault, a consumers league vice president who specializes in telecommunications and fraud policy, people should have their antivirus software up to date when shopping online.
Watch out for charity scams: Phone calls and websites can solicit information from donors by posing as charities, and then steal from those who fall for the trap.
Mierzwinski said potential donors should use websites to check the legitimacy of charities, including GuideStar USA Inc. (www.guidestar.org) and CharityWatch (www.charitywatch.org). Fraudulent charities can disguise themselves by using names and Web addresses similar to real ones.
In terms of phone calls and emails from charities, Breyault recommended hanging up and deleting the emails. "If you're thinking about donating to a charity," Breyault said, "go to that website on your own."
http://hampdencomputer.com/wp-content/uploads/2013/12/McAfee-Scam-list.jpg
930
800
kbellerose@tcreal.com
http://hampdencomputer.com/wp-content/uploads/2013/11/fulllogo1-300x104.png
kbellerose@tcreal.com
2013-12-01 13:46:41
2014-02-11 17:38:31
Holiday Shopping Scams 2013