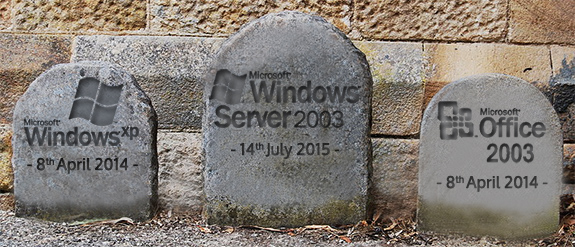 For everything  there is a season, that certainly rings true for computers and technology. Windows XP first released in August 2001 turned out to be a huge hit for Microsoft and a relatively stable operating system for the following decade. The mostly widely adopted computing platform ever released up to that point. It's simple and relatively logical interface, improved plug and play detection and great hardware support made it a favorite of millions.
As of April 8th 2014 Windows XP enters End of Life status, what that means to the average user is that the patches that keep the operating system secure will cease. Over the last 2 years I have been moving customers to the Windows 7 platform, especially business users. While Windows 8 continues to grow on me, I am still not a huge fan and prefer the straight forward desktop based interface that we have grown proficient at navigating.
Some customers still drag their feet, there are many businesses that are scraping by and do not have the capital investment for an IT make over. With residential customers I have been giving them the EOL talk and what that means moving forward. Most systems that came preloaded with XP are getting rather outdated at this point, aside from slower single core processors, the amount of ram is usually insufficient. There are situations that make sense to upgrade current hardware to Windows 7. If you have a system that has been upgraded over the years, has a dual core processor and 4+ GB of ram and a hard drive that is not older than 5 years.
New systems can still be purchased with Windows 7 but usually need to be ordered as the big box stores have long since gone to Windows 8. For you small office, home office users, it is time to move on. If your computer is connected to the internet when support ends, all bets are off.
http://hampdencomputer.com/wp-content/uploads/2014/01/XP-Office-2003-Gravestone.jpg
247
575
kbellerose@tcreal.com
http://hampdencomputer.com/wp-content/uploads/2013/11/fulllogo1-300x104.png
kbellerose@tcreal.com
2014-01-06 13:47:41
2014-02-11 17:35:38
Windows XP Do Not Resuscitate