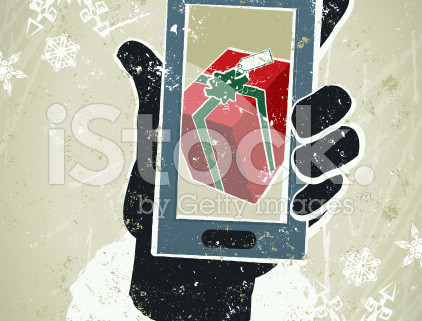 No matter what type of shopper you are– the early bird who has everything wrapped up before Thanksgiving, or the mad-dasher that goes to grab everything the night before, it is easy to lose track of everybody on your gift list. There is the challenge of making sure that nobody gets the same present twice, especially if the same lists are circulated throughout your family. Here are a few tech tools that you can use to organize your holiday gift giving.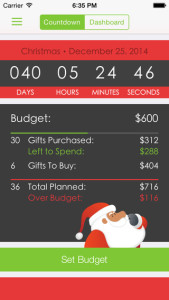 Keeping track of what you want to get for somebody, or what you have already purchased for others is challenging, particularly in large families. What good is planning ahead if you forget what you bought and where you hid it last month? How can you really keep your budget in mind when you are just wandering the store shelves aimlessly buying random gifts? If you have an iOS device, you can get the Santa's Bag app. This gift giving app helps keep track of what everyone wants, how many gifts you have bought for each person, how much money remains in your budget, and even whether or not you have wrapped the gifts yet. You can add recipients as you go, as well as input what they want or what you think they want into a "gifts and ideas" list. You can set a certain budget for each gift recipient, sort out what store you will be buying the gift from, and set the status of wrapped or unwrapped, and add a gift location so that you don't forget where you hide it!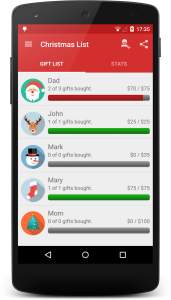 A great gift giving app for those who do not have iPhones is the Christmas Gift List for Android. This app tracks ideas for what you want to get each person. The Christmas Gift List app also has quick click icons that let you update the status to bought, or from unwrapped to wrapped. Much like Santa's bag, you can set personal budgets for each recipient- and see how many gifts you still need to buy at a glance. There is additional room for notes about each gift such as how you wrapped it, how large it is, and what color it is. This app is great for keeping you on top of your holiday gift giving.
The apps mentioned above are great for staying on track of your own gifts, but for those who need to coordinate with friends and family to avoid gift overlap, consider using Google Sheets.  Google Sheets will help you form a complete gift giving spreadsheet, with each recipient having their own tab. The only downfall of this system is that users will
be able to see when a gift from their list has been crossed off. The best thing about Google Sheets is that it is free and can be accessed from any device that has an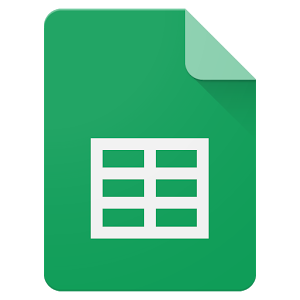 internet connection. All you need is a Gmail account, and family members can see who has added what. As soon as an item is purchased, it can be removed from the wish list so that no item is gifted twice. Although Google Sheets was designed to be more of a tool for school or business, it is surprisingly effective for use as a gift giving organizer.
Of course, there are some families that are spreadsheet challenged. For those families, there are several online wish lists that are good for beginners. MyRegistry allows you to add gifts from any online store, as well as sync any existing registries you may have at places like Amazon, Target, Walmart, Macy's, and more. You can also use the smartphone app to scan bar codes of items that you find in physical stores. After you have compiled your list, you can share it on social media, a custom link, or allow people to search for it using your name. People with whom you have shared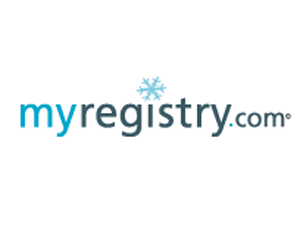 your list can update an item to show you when it is purchased. If every member of your family signs up for a MyRegistry account, everybody gets what they want and nobody ends up with three of the same gifts. MyRegistry is probably the most comprehensive tool for organizing your gift giving, but it does not work unless everybody is on board.
No matter how many people are on your holiday shopping list, staying organized can be a challenge. When it comes to gift giving, it is best to stay on top of things and not wait until the last minute, but no matter what your holiday shopping approach is, these tech tools will surely help organize your gift giving.
At the Computer Doctor, we can help you give the best gifts to your loved ones. We have an iMac in the shop, as well as two laptops ready to go– one of which is touchscreen! A newly refurbished computer by a certified and trustworthy technician is the perfect present to give this season.
Call us at 862-7019 or stop by and visit us at 50 Main Rd N in Suite B in Hampden, ME to check out our selection! If you mention this article, you will even receive 15% off!
http://hampdencomputer.com/wp-content/uploads/2015/12/stock-illustration-44185802-santa-claus-hand-holding-smart-phone-with-gift.jpg
556
422
Alyssa
http://hampdencomputer.com/wp-content/uploads/2013/11/fulllogo1-300x104.png
Alyssa
2015-12-11 16:33:13
2015-12-11 16:33:13
Your Guide to Organize Your Christmas Shopping